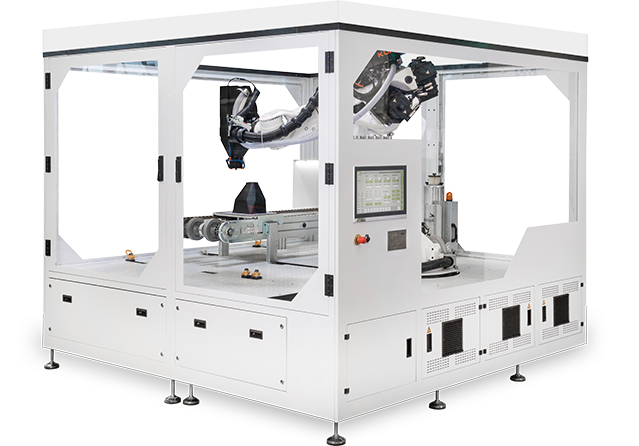 Additive Manufacturing – economically minded
SpaceA technology is based on the layer-by-layer deposition of one molten thermoplastic. A solid component can be built up by solidifying this melt strand.
Yizumi's SpaceA technology is based on 4 principles for economical use:
Use of a screw extruder
Use of a 6-axis positioning system
Use of a high plant modularity
Use of an industry standard control system
First, the material which will be processed is pretreated in a dryer (1). This dryer is included in all standard systems. The material is fed from the dryer to the extruder (2).
The extruder is a compact single-screw extruder, weighing only 6.5 kg. There the pellets are plasticized and discharged in a defined manner. The final component can then be produced on the construction platform (3) by a relative movement of the positioning system (4).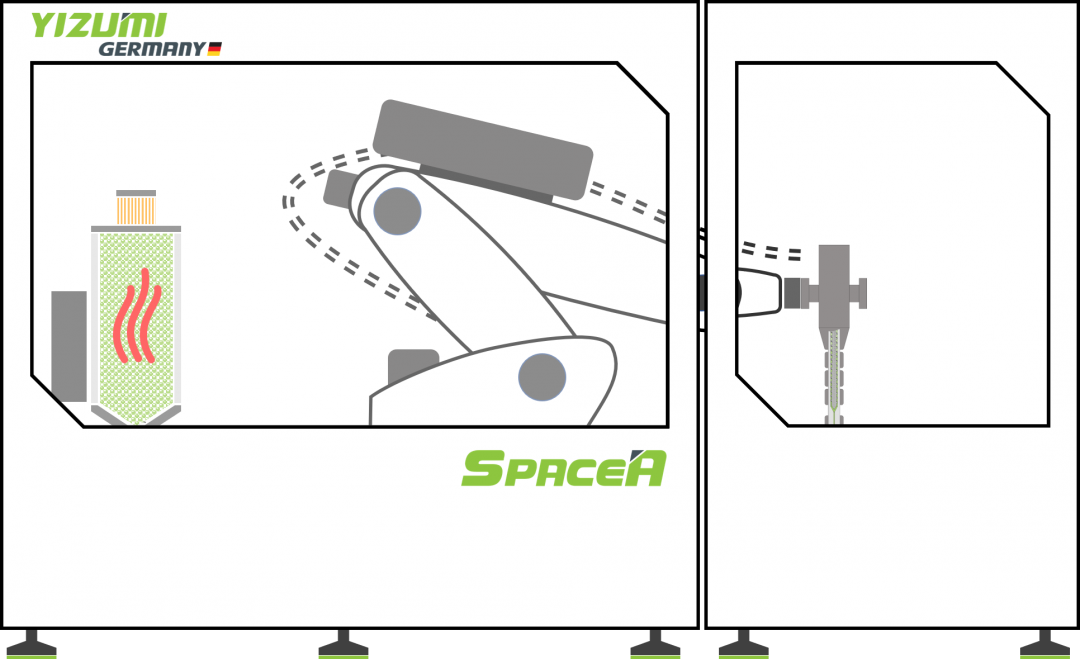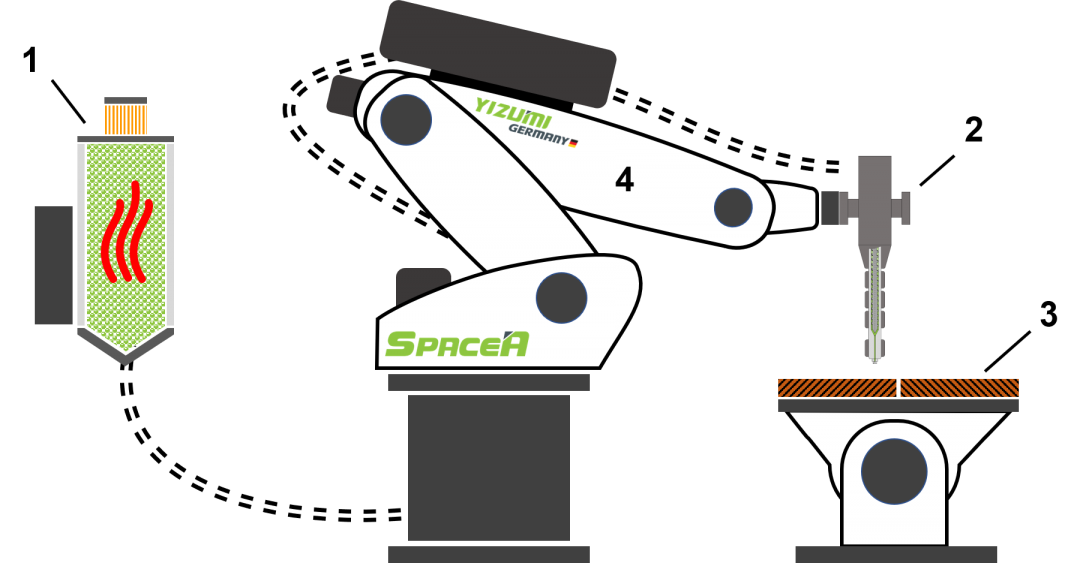 Screw extruder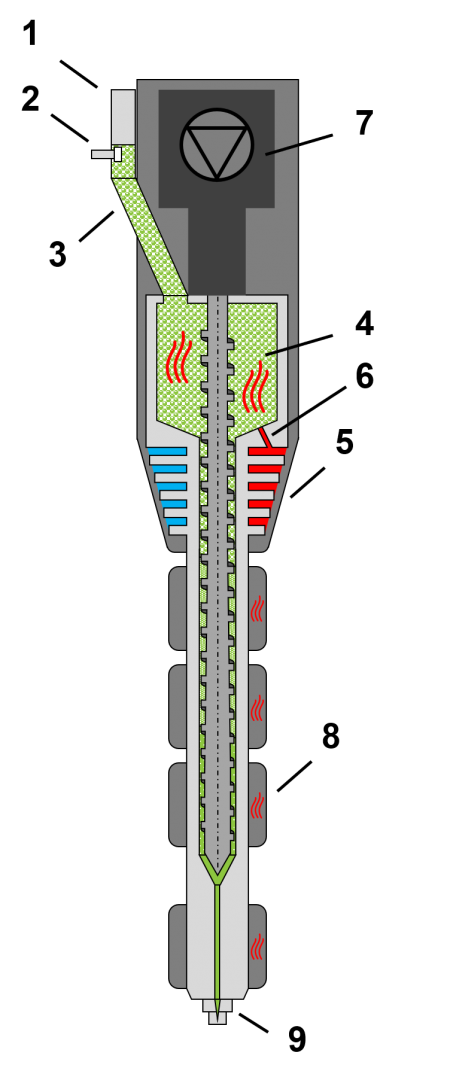 Based on Yizumi's many years of know-how in injection moulding, a specialized screw extruder for additive production has been developed and patented.
The screw extruder has a concentric and conical feeding zone. This can significantly increase the solids conveying behavior. At the same time, material drying is integrated in the extruder directly above the material feed. The design to the point allows a short design of the screw extruder, which reduces the mass inertia during the process.
The pellets are connected to the hopper (3) of the extruder via a nozzle (1). A filling level sensor (2) is installed there, which transmits the filling level to the control system. This ensures automatic pellet feeding. The granulate is fed into the intermediate storage tank (4) via the hopper. The intermediate storage is heated via the feed zone cooling (5) and supplied with dry compressed air (6). The screw runs concentrically in the intermediate storage. The resulting concentric feed zone ensures a constant flow of solids into the feed zone of the plasticizing part. The screw is driven by a servo motor (7). The plasticizing part is kept at the desired temperature by three heating elements (8). From there, the melt is applied through the nozzle (9). The nozzle is equipped with a needle to ensure a clean closure.
6-axis robot
The modular platform allows the integration of different robot sizes and ranges. This means that the most suitable and therefore most cost-effective positioning system can be used for every production application. The robot can be integrated into existing automation processes and combined with other manufacturing processes.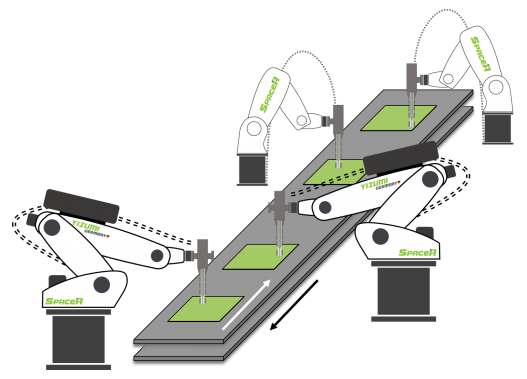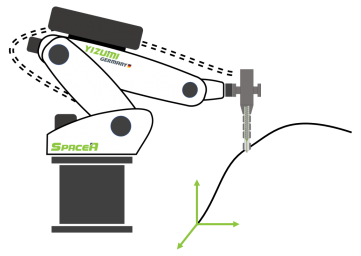 Through the consistent integration of 6-axis robot systems, existing standards can be built upon. In addition, all Yizumi systems are 3D Ready and allow 3D component creation if suitable path planning software is used.
Industrial control
All SpaceA systems are equipped with the SpaceA – Serenity control. The control is based on high-quality hardware components and allows the connection to other plastics processing machines via state-of-the-art interfaces, e.g. via EtherCat, Ethernet or Euromap connection. Additional interfaces are flexible and easy to implement according to customer requirements.

The Serenity control system allows the operation of the additive manufacturing plant at the level of an injection moulding machine and thus allows production-oriented use.
Modular design
Extruder Extension Package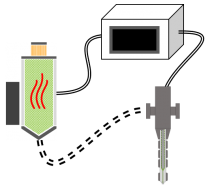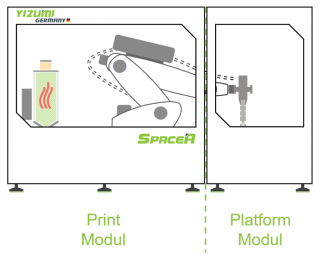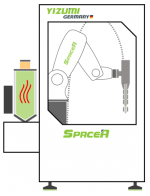 The flexibility of the system is based on the separation of platform module and production module. Thus, a standardized manufacturing module can be combined with different platform modules or several manufacturing modules can be combined on one platform module.
This modularity means that the system can also be easily integrated into existing production chains, for example to functionalize injection molded parts. The high productivity of the SpaceA product family makes it possible to apply sealing elements or reinforcement structures to a component in the cycle of an injection molding machine.
Your Benefits on one Sight
Automatability
Scalable in line combineable with prototype methods. Combination of additive and subtractive manufacturing processes.
Productivity
28 times faster than conventional FLM processes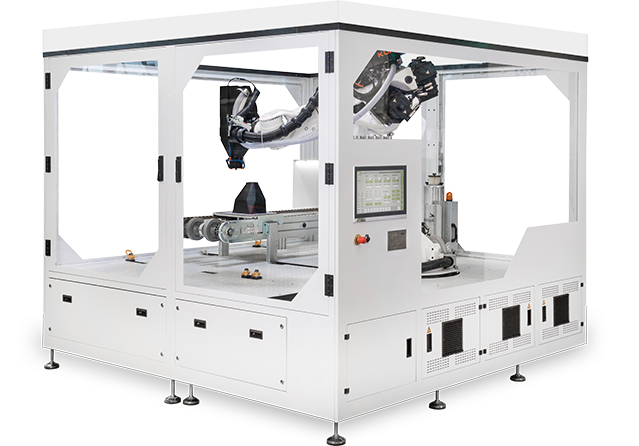 Scalability
The SpaceA product family is flexibly scalable in size and material discharge.
Material variety
Any thermoplastic granulate can be used.
Automatability
A 6-axis industrial robot overcomes the usual limitations of component size and design complexity. In order to ensure reproducible dimensional accuracy and high surface quality and at the same time avoid a restriction of component complexity, subtractive processes (e.g. milling, drilling) are integrated into the manufacturing process by combining the additive structure and machining in one manufacturing system.
Based on this approach it is also possible to integrate inserts such as threaded or bearing bushes, injection moulded parts, electronic or ceramic inserts and to equip the component to be built with further functions. For this purpose, the machine used for extrusion and machining operations is equipped with a standardized tool changing system, which guarantees a high degree of automation and flexibility.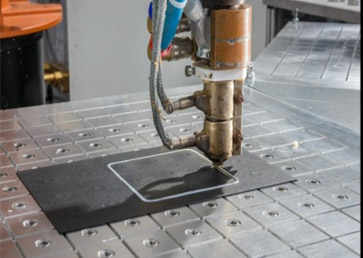 Subtraktive Manufacturing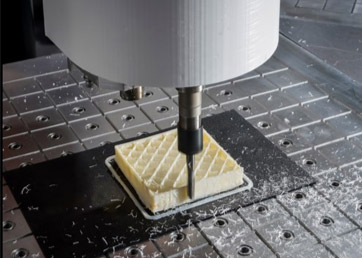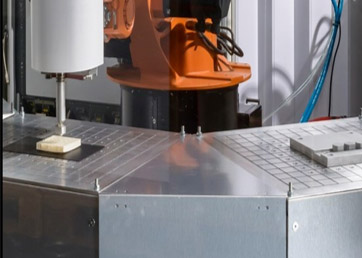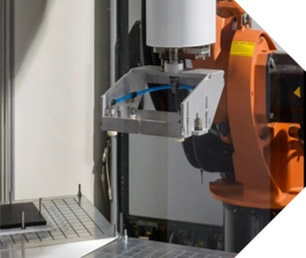 Material variety
Thermoplastic granulates can be used to reduce costs
Due to the underlying screw-based extrusion process, pellets, customary in the industry, can be used.
This allows a wide range of thermoplastics to be used without the need to produce a powder or monofilament. The resulting low costs are directly reflected in the low component costs.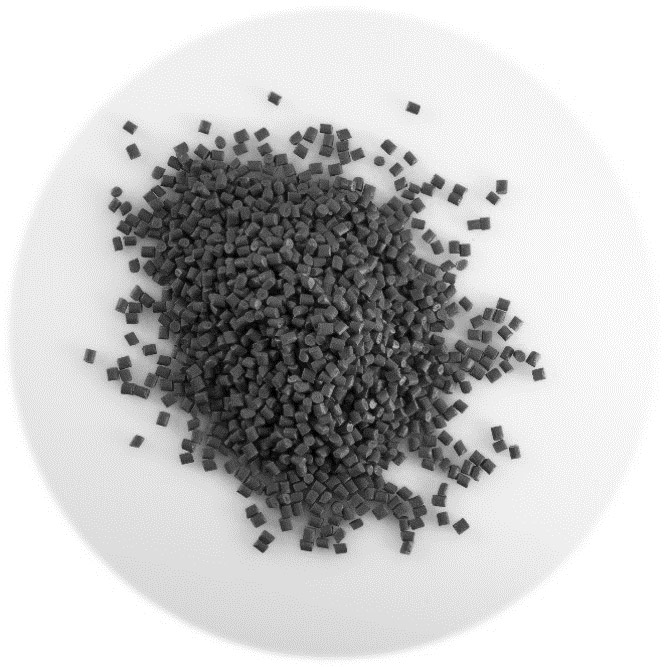 Benefits Pellets:
High availability
Cheap
Godd eligibility from one central stock(allows scalling of product lines)
Special extruding technology allows low variation of extruding rate
Material types successfully tested to date:
PA6 filled (Glass fibre filled, Carbon fibre filled)
PP filled and unfilled
TPE
PMMA
PC
Productivity & Economy
The high productivity of the process used is based on the physical principle of shear heating within the screw extruder used. In contrast to pure plastification via heat conduction, a slavable conveying rate independent of the thermal conductivity of the material to be processed can be achieved, which can be increased by up to several kilograms per hour depending on the process point.
Diameter: 16 mm
Temperature control: 1 cooled zone, 3 heated zones
Max. Temperature: 400 °C
Granulat size: > 8 mm rod granulate
Possible materials:
Thermoplastics unfilled and filled (e.g. glass carbon fibre up to 40%)
The central screw extrusion unit is operated with conventional thermoplastic granulate. Compared to filament-based production technologies, this enables the processing of unfilled, but also highly filled plastic compounds with simultaneously high and scalable throughputs. In addition, the possible high throughput leads to a considerable cost advantage in the processing of engineering thermoplastics, depending on the material, due to the low price of pellets (approx. 1 to 8 €/kg) compared to filament (approx. 20 to 500 €/kg).
As with all manufacturing processes, the production results depend on the process capability of the material used. The main aspects here are dimensional accuracy (shrink gears) and mechanical properties (adhesive gears).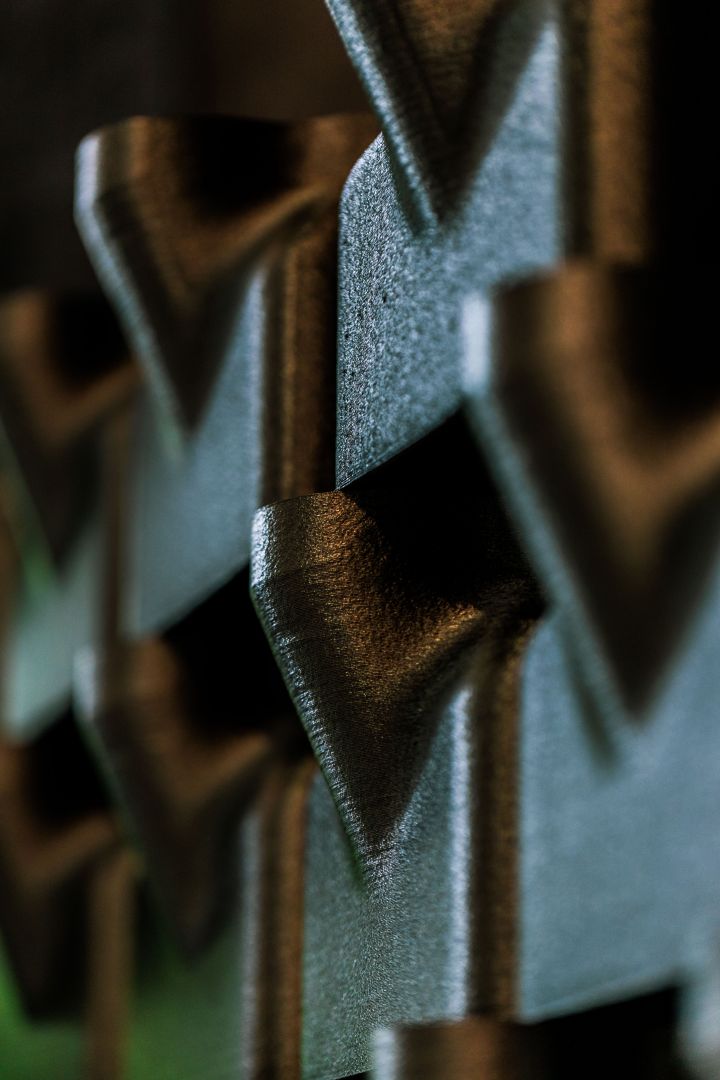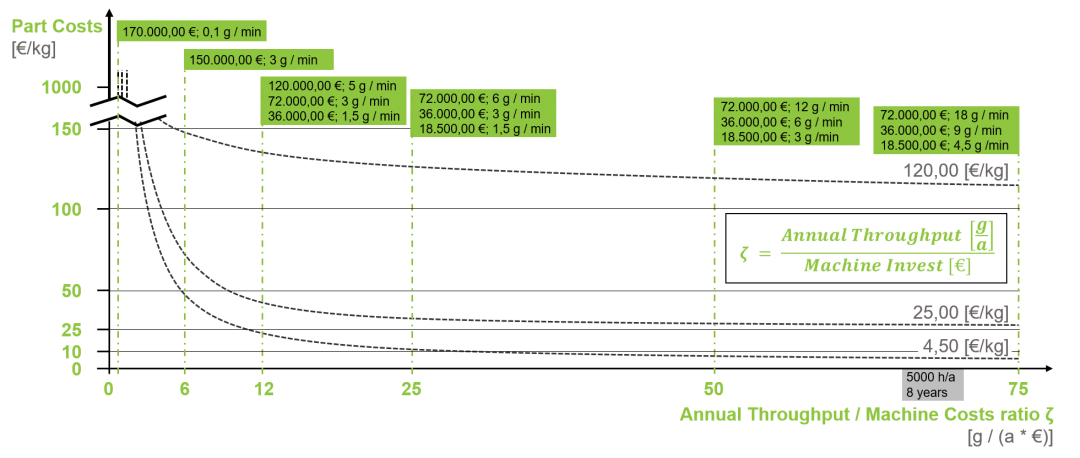 Like previous manufacturing processes, additive manufacturing plants must also be subject to the usual investment calculations. Accordingly, the plant investment must be reduced and the material output increased at the same time. Only with high ratios of absolute investment and material output per year can economic production be guaranteed in comparison to injection moulding.
Scalability
The modular platform allows the integration of different robot sizes and ranges. This means that the most suitable and therefore most cost-effective positioning system can be used for every production application. The robot can be integrated into existing automation processes and combined with other manufacturing processes.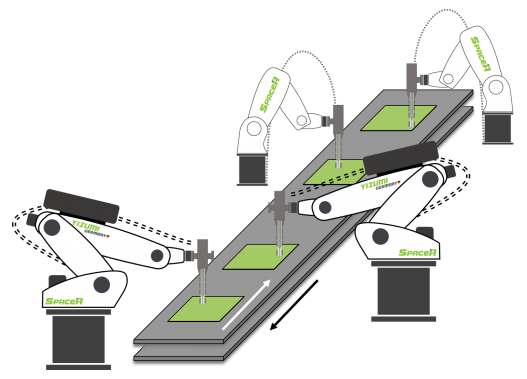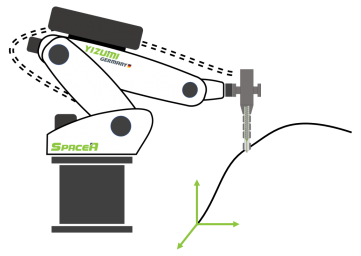 Through the consistent integration of 6-axis robot systems, existing standards can be built upon. In addition, all Yizumi systems are 3D Ready and allow 3D component creation if suitable path planning software is used.
PRODUCTS VARIANTS – SpaceA
Extract from our standard assortment. Talk to us!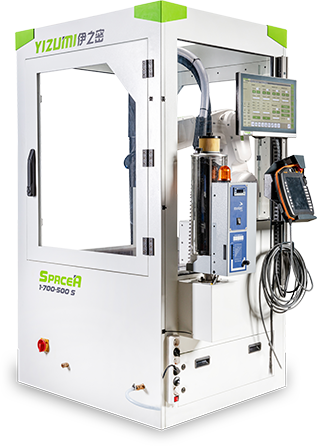 SpaceA-1-700-500
Fixed Platen
Smallest standard solution of Yizumi.
Extruder 500
KR10 Small robot with a reach of 700 mm assembled.
A wide area can thus be used at low cost.
Fixed, magnetic construction platform.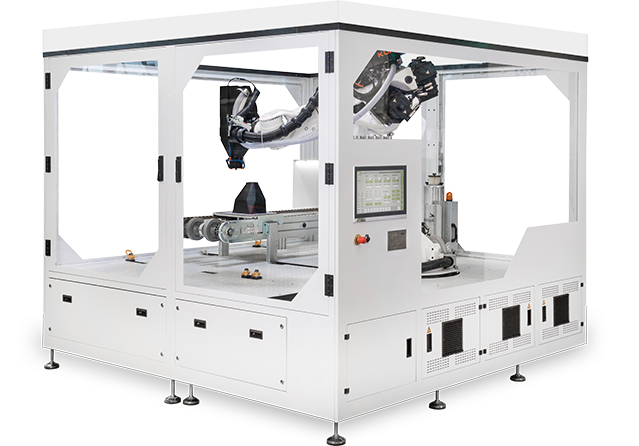 SpaceA-1-2000-500
Fixed Platen
The SpaceA-1-2000-500 is Yizumi's largest standard solution.
Extruder 500
KR30 HA with a maximum reach of 2000 mm
The system is characterised by its large action area.
The modular system also allows flexible use of the print module in different environments.
Fixed, magnetic construction platform.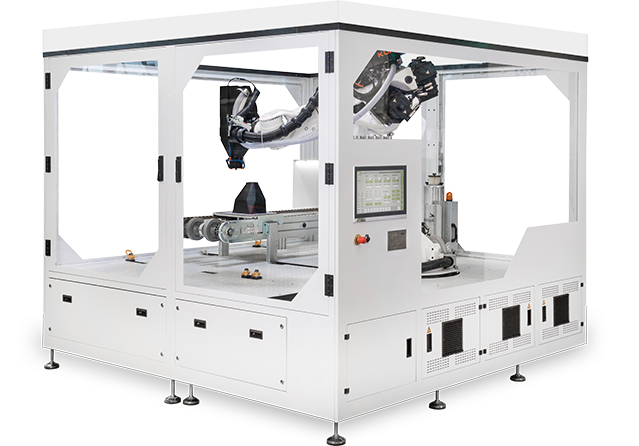 SpaceA-2H-2000-500
Piece Carrier System
The SpaceA-1-200-500 is Yizumi's most complex standard solution.
Two extruders 500 and one milling spindle
Automated tool changing system
KR30 HA with a maximum reach of 2000 mm
The hybrid variant allows the integration of several different manufacturing processes on one plant.
Thus, the SpaceA-2H-2000-500 is the all-rounder among the additive manufacturing processes.
The system is equipped with an automated workpiece carrier conveyor system.
The workpiece carriers are designed magnetically.
1. What is the main problem with today's competing technologies for additive manufacturing?
Most machine suppliers for AM-machines expect machine costs and material costs to be too high. If we want to use additive manufacturing in real production, we have to benchmark ourselves with injection moulding technology and for this we really have to reduce material costs to the standard granulate price and machine costs far below the cost of injection moulds.
2. And this is Yizumi's approach?
Yes, we want to use injection moulding as a benchmark and try to offer our customers a real benefit in using our AM technology. And our SpaceA systems can process standard granules so that PMMA or highly filled materials are no problem for us. This allows us to reduce part costs for the first time. In addition, we have developed a truly cost-saving machine and extruder technology to reduce machine costs. Both tracks lead to low part costs and so we can offer an attractive technology for small batch sizes and medium batch sizes up to 10,000 parts.
3. What machines does Yizumi offer?
At the moment we have three standard product lines. First the extruder extension packages. Here we only offer the extruder with control and material supply. This package is an intelligent solution for all customers who already have an automation cell with a six-axis robot system. Secondly, we have a small machine series and thirdly a large machine service. In all our product lines we offer our customers additional full flexibility. This allows us to easily adapt the standard packages to their needs.
4. How far can the automation approach be scaled?
The automation approach of the SpaceA product family, like any general automation approach, is completely scalable. It is based on our innovative extruder, which can be handled via 6-axis positioning systems. Combinations of different production technologies such as milling, injection moulding, thixomolding, die casting or thermoforming can be implemented. Finally, the right combination of the various state-of-the-art technologies is crucial in order to produce a cost-effective component that meets the requirements.
5. And could you already present automated production lines?
Yes, twice. At the last K 2019 in Düsseldorf. Since the K-Show is production-oriented, we showed in two cases the integration of a SpaceA AM system into a fully automated injection molding production cell. This enabled us to reduce the complexity of injection molding. This approach saves a lot of costs in both injection molding machine technology and injection molding tool technology. To give the first example at the Yizumi booth, we produced a strong rib structure in cycle time on our Yizumi engine cover. This way we have an optimized material usage. Strong carbon fiber reinforced material for the rib structure and slightly glass fiber reinforced material for the cover itself. Secondly, we applied a TPE anti-slip structure to a Raspberry Pie housing on the IKV booth. So we were able to show very well that we can meet the injection molding cycle time and are able to handle complex automation systems.